Welcome to the October 2012 Simplicity Parenting Carnival: Holidays
This post was written as part of the monthly Simplicity Parenting Carnival hosted by The Lone Home Ranger and S.A.H.M. i AM. This month we are discussing how we simplify the holiday season. Be sure to read to the end to see a list of the rest of the excellent carnival contributors.
***
In the past I wouldn't have considered myself the crafting kind. That's an understatement, really. I tried one Martha Stewart craft project in college–creating my own criss-cross ribbon photo board–which was an abysmal failure. Lately, though, I've been enjoying taking up more craft projects with my girls. Perhaps it's the fact that they are so small that makes me adventurous. After all, who cares if a child's art project isn't perfect?
As the holidays approach this year, I am looking forward to taking on some of the crafting challenges laid out by fellow bloggers. The Internet presents no shortage of ideas, so the top challenge is likely going to be keeping it simple but still festive. My priorities are allowing the kids to express their creativity and holiday cheer without compromising my desire to cut down on spending and resource waste. Think I can make it happen? I'll share what I've been thinking so far.
Genevieve is as enthusiastic as ever; it's a toss-up which is her favorite holiday, but Halloween is right up there with its candy, decorations, pumpkin-carving, and costume-wearing. After Vivi asked me about fifteen times a day if I would let her know "when Halloween was starting," I realized it was about time to get out the decorations.

Last year's bunch were a good start for a three-year-old (primarly pumpkins made at preschool and ghosts made of Daddy's old t-shirts), but this year we're stepping up our game, starting with the ghosts. I can't wait to make the idea posted in the pic/link below.                                       Source: simplydesigning.blogspot.ca via Lone Home Ranger on Pinterest
Printables will no doubt also make an appearance in our holiday decorations this year. A few months ago I didn't know what the word "printable" meant, but now they seem to be exploding everywhere on the Internet. If like me you still aren't in the know, a "printable" is simply a PDF design someone makes and shares with others on the Internet, usually for no charge. Gabrielle of Design Mom shared some printables on Babble a few days ago (see pic and link below), so I'm off to find some old frames in the basement to display a few. Printables: free and use items I already own? I'm sold!
                                             Source: blogs.babble.com via Lone Home Ranger on Pinterest
We are half-buying, half-making Genevieve's costume this year. She wants to be Bat Girl, which she envisions as a combination of Bat Man and a princess. We weren't sure how the costume would look until I saw an Etsy creation posted to Emily's Facebook wall. Her daughter wants to be a Spiderman princess…I'm seeing a theme starting (don't believe me? Just search "Batman tutu" or "Spiderman tutu" on Etsy).
So a tutu it is! We found some Batman jammies at Target to go underneath it, and then I plan to make the cape, mask, and tutu. Luckily Green Owl Art & Family Sponge posted a great idea for a homemade tutu:

                    Source: familysponge.com via Lone Home Ranger on Pinterest
As for Christmas, I've adapted the tradition, an idea I also found on Design Mom, of three gifts from Santa: something to 1) read, 2) wear, and 3) play with. What I don't make myself for #2 (I'm limited mostly to knitting projects) I will get in two main ways, thrifting and Etsy. I figure if I can't make it myself, I would love to support someone else's creative talents. Babble just published their top 50 Etsy parent designers, so that's a good place to start if you haven't visited Etsy before.
Nippity-nee!
For #1, I love thrifting old books. I love the illustrations, the different language of the day, and the old pages. Reading a book is already a journey into another place, and I find that an old book just adds to that element of mystery and intrigue. Thifting is also a great activity because the items must be found with more searching than a simple shopping trip to a store, which makes it a kind of game and adds to the feeling of personalization of each gift. As an added bonus, it means NO MALL SHOPPING. Two ebullient thumbs up!!
circa 1950 (a thrifted book from my childhood, courtesy of my grandma)

What are the holidays like in your home? Do you try to simplify your traditions?
***
Thanks for reading the Simplicity Parenting Blog Carnival! We hope you'll take time to read these other great contributors' posts: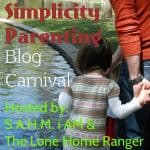 Thanks to all the fabulous writers and readers for being a part of our simplicity parenting community! Stop by The Lone Home Ranger and S.A.H.M. i AM to see how to join us for a future carnival.
Editor's note: This post is part of: