You're probably thinking, "Is this the second post about Christmas she's written before Thanksgiving?" Yes! I am discovering that to simplify our lives, I often need to plan ahead. If I'm organized, I'm able to say with confidence whether Vivi can take that skating class or I can volunteer to hand out holiday gifts for our town again. Otherwise, I'm flying blind and trying to guess whether we have time and space to take on more. I owe my better preparations to Simplicity Parenting–for philosophy– and Minimalist Parenting–for strategy. Have you read them yet? I'm betting they will change the way you approach the holidays this year.
After a few years of ho hum holiday cards, I'm looking forward to getting some crafty cards from Minted this year. Have you heard of them? I first found their website via my friend Nole's stellar website devoted to stationery, calligraphy, and design. Minted is a crowdsourced marketplace that connects consumers and designers for everything paper, from cards to wall art. Personally, I'm psyched that they have both ornament and foil-press options for holiday cards.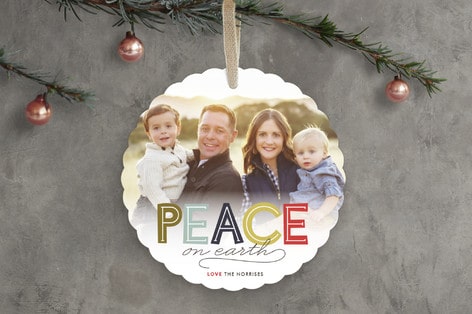 So adorable! If I got these, I think I'd save one and put it out again every year, don't you?
Right now, you can get 10% off holiday cards at Minted using the promotion code FALLHOL10 (thru Oct. 29th)! If you get some, let me know in the comments which ones you got. 
Minted and West Elm are also hosting a chance to win $500 each in their products at this Deck the Halls/Deck the Walls Sweepstakes. I hope you win! If you do, send me this picture of a cardinal, pretty please.
Yes, Minted is giving me free stuff from their store for posting about them. But I truly love them and think you will too!