Welcome to the February 2013 Simplicity Parenting Carnival: Finances
This post was written as part of the monthly Simplicity Parenting Carnival hosted by The Lone Home Ranger and S.A.H.M. i AM. This month we are discussing how we balance finances, family, and simplicity. Be sure to read to the end to see a list of the rest of the excellent carnival contributors.
***
When we bought our first Mac laptop seven years ago, it helped us in many areas of our lives. Perhaps the biggest way was that we started using Quicken. I smile when I ponder the pre-Quicken days of writing down every expense on a paper tablet, but that is one instance when I can say for sure I don't long for the Good Ol' Days.
Although Quicken did help us establish our first budget, it wasn't until we took on a frugal living challenge last year that we really began to analyze closely our needs versus our wants and attempt to make cuts to family spending. The frugal living challenge was a 23-day experiment in which we redefined "enough" and discussed the merit of each individual purchase we make on a regular basis.
We altered our lifestyles greatly after the challenge to be more frugal. For instance, we got rid of cable (for a year; we're back on cable now in our new house). One area that took lots of time and soul-searching to change was grocery-shopping. I realized in doing the challenge that so much of my coupon-clipping was to purchase items we didn't really need (e.g. toilet bowl cleaner can be made at home for pennies on the dollar!). Upon that realization, I decided once and for all to cut out coupons from our lives; I shared the results and my tips for shopping frugally without coupons on the blog.
 I have written several posts about living frugally, so if you're pondering how you can live more simply and within your means, come pull up a chair and learn from my foibles and follies on our path to frugal living:
How do you live frugally? What does frugal living mean to you?
***
Thanks for reading the Simplicity Parenting Blog Carnival! We hope you'll take time to read these other great contributors' posts (Note: Links will all be live by 3pm ET on February 26th):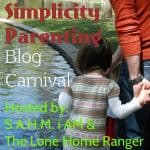 Thanks to all the fabulous writers and readers for being a part of our simplicity parenting community! Stop by The Lone Home Ranger and S.A.H.M. i AM to see how to join us for a future carnival.
Editor's note: This post was shared with The Homestead Barn Hop