Welcome to the August 2012 Simplicity Parenting Carnival: Productivity
This post was written as part of the monthly Simplicity Parenting Carnival hosted by The Lone Home Ranger and S.A.H.M. i AM. This month we are discussing how we balance simplicity and productivity, i.e. remain productive while also maintaining a slower pace of life. Be sure to read to the end to see a list of the rest of the excellent carnival contributors.
***
I can't remember when I first heard of the term "mise en place;" maybe it was Julia Child, or perhaps it was Top Chef. What I can recall is that my brain automatically flagged it as a great concept not just for cooking but for many parts of my life. French for "putting in place," it's the gathering of ingredients prior to starting to cook. Preparing ingredients and equipment ahead of time is a brilliant time-saver in the kitchen. Plus it makes you feel like a celebrity chef and culinary genius, even if what you happen to be making is a simple as pesto. So could it be a metaphor for life? Could life itself be a dish that is best created when elements are designed, pondered, and crafted ahead?

Extending the notion of pre-assembling to the rest of my world took no less than a paradigm shift, the basic assumption moving from "I don't have time to plan anything ahead; I must wait until I have some time and decide what to do then" to "I don't need to do an entire project at once. I can start it and come back later." Giving myself permission to stop mid-project and switch to another task has been the kick in the pants my organized self wanted.
When I talk of preparing ahead, I'm not necessarily referring to the organizing of stuff. I probably brag too much, in fact, about my knack for organization. It's more like a thoughtfulness for the tasks ahead and a orchestration of the tasks into an efficient and productive order. I've never been great at time management, but I've been pondering some changes I could make ever since Barb's guest post on work flow a while back.
Modern technology aids me in my task of planning ahead. For example, I use Todoist to begin my day-mapping; it lets me easily add items to lists, color-code them, and switch tasks to other projects. I put the washing machine on automatic time-delay to run in the early morning hours. That way, I take the fresh laundry out of the wash when I wake in the morning rather than letting it sit there for hours and risk molding. Similarly, I set the dishwasher ahead to run after we have showered in the evening so it doesn't use up our hot water.
I set out the non-refrigerated breakfast items ahead in the evening, like bowls/spoons and cereal or oatmeal, and then get up a few minutes before the kids and pull the laundry out of the wash, start breakfast, and get the mid-morning snacks set up. While my kids have nap time and "room time" (when Vivi plays quietly for an hour), I get their afternoon activities set up; if we're going to the local beach, I prepare the bags and set up a crock-pot meal, and if we're staying home, I get paint or other art projects ready.
I apply mise en place for my meal components as well, and I plan out what I'll be preparing on any given day, from cooking meatballs to incubating yogurt to chopping carrot sticks or grating squash to freeze for future recipes. In the evening, when I'm not doing yoga or knitting while I watch TV, I use my down-time to apply mise en place to the blog, organizing and planning topics on certain dates.
My last change sounds like an easy one, but for some reason it wasn't for me: I always always wash dishes as I use them. This is a rule my dad has been following for as long as I can remember, but I just couldn't make myself do it until I forced myself to consider it a RULE. I now absolutely do not leave the kitchen until they are done. For moments that the kids need my attention while I'm cleaning, I keep special toys in a cupboard that they don't see often; you'd be surprised how long they will play with a few plastic army men and matchbox cars if you keep them hidden most of the time. Speaking of dishes, when I'm waiting on the faucet water to get hot, I fill up my watering can. It saves both water and time later when I'm ready to water my herbs.
Most of all, remember: if it's not fun, it's not sustainable. Make yourself view these preparations as a positive part of your day; do whatever it takes to make your brain see it this way. Reward yourself for a productive job well done! Play happy music and postpone the chocolate and "Facebooking" until you've completed your prep work.
Do you have secrets to making your day more productive? I'd love to hear them.
All the links on the list below will be live and updated by 3pm E.T. today! 
***
Thanks for reading the Simplicity Parenting Blog Carnival! We hope you'll take time to read these other great contributors' posts: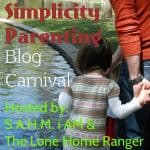 Encouraging Productivity – Melinda at Wholesome Womanhood discusses ways to embrace computer time as a time to learn via podcasts, online sermons, etc.
Mise en Place – Justine at The Lone Home Ranger discovers preparing for projects ahead of time can be a big time-saver that helps her increase productivity.
Productivity? Depends on your definition! – Jamie at I Love Junkmail describes her typical productive day.
Productivity: Making the correlation – Jade at Faith in the Shade talks about how she is revamping every aspect of her life (including measuring productivity) to live simpler.
Simplicity and Productivity: The Art of Compromise – Emily at S.A.H.M. i AM finds that compromise is sometimes the best way to balance productivity and simple living.
Thanks to all the fabulous writers and readers for being a part of our simplicity parenting community! Stop by The Lone Home Ranger and S.A.H.M. i AM to see how to join us for a future carnival.
Editor's note: This post is part of Frugal Days, Sustainable Ways and Your Green Resource