Welcome to the June 2012 Simplicity Parenting Carnival: Green Living
This post was written as part of the monthly Simplicity Parenting Carnival hosted by The Lone Home Ranger and S.A.H.M. i AM. This month we are discussing how we find ways to be more natural parents and stewards of the environment. Be sure to read to the end to see a list of the rest of the excellent carnival contributors.
***
A few months ago I wrote about my switch to the
"no poo" method
of washing my hair with baking soda and apple cider vinegar. In case you didn't read it or my updates, I still love it and have never looked back. My hair is shiny, less greasy, and never has tangles. I also wash the girls' hair in baking soda, and when combined with Vivi's pixie hair cut, I basically never need to brush her hair. It's like magic!
Using more natural personal care products has motivated me to find other green and natural uses for these magical kitchen items that previously took a back seat on the shelf. Prior to having kids, my method of being "green" was to buy Seventh Generation and leave it at that. But once I started delving deeper into the types of products I use, I realized you can go so much further toward sustainable, earth-friendly methods of cleaning without even needing to purchase new items. A little know-how goes a long way.
Just in time for my desire to learn, I stayed with my grandmother for a week, and she gave me some great tips. My great grandmother used to work at a professional laundry service, and as a result, she passed along some wonderful cleaning advice. For instance, did you know the "treat animal with animal" stain trick? If you soak blood stains overnight in milk, they come right out!
Included in her bag of tricks were some uses for baking soda. If you scorch the bottom of a pan (rice is my favorite thing to forget on the stove, followed closely by whatever baby food I'm boiling), dump out whatever you burned, then add about 1/2 c. of baking soda to cover the bottom and an inch of water. Bring it to a boil, then leave it overnight to soak.Voila! It comes off immediately. More uses for baking soda can be found here
As for vinegar, I can't speak highly enough for its uses around the house. I started using white vinegar on windows, and now I put it in the washing machine and dishwasher to remove soap scum or the occasional mildew in my front loader. Apple cider vinegar is another great product both for cleaning and for health. More uses for vinegar can be found here
While at first glance this post might not seem to have much to do with parenting, I feel strongly that one of my jobs as a mom is to learn as much as I can from the "village" of elders in my family who have so much knowledge to pass on; that way, I can give my children the best homesteading education possible as they grow up. Do you have great natural cleaning tips that have been passed down in your family? I would love to learn more heirloom secrets!
***
Thanks for reading the Simplicity Parenting Blog Carnival! We hope you'll take time to read these other great contributors' posts: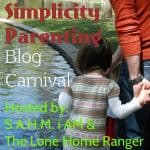 Almost Crunchy – Molly at Molly Makes Do writes about her life as "Almost Crunchy" and the baby steps she's taken to get from "Not at All" to "Almost."
A (Mostly) Plastic Free Life – Kellie at Our Mindful Life reflects on the recent intrusion of plastic into her usual plastic free home.
Slowly Greening Our Home – Dana at Urban Hippie Momma has slowly reduced the amount of paper waste in her home with a few simple practices.
Being Green – Anne at Raising Sweet Grace shares her tips on being a green parent.
Back to Basics – Justine at The Lone Home Ranger channels her greatgrandmother's cleaning tips to make her household healthier, more frugal, and more earth-friendly.
It's Not (Always) Easy Being Green – Emily at S.A.H.M. i AM discusses the little things her family does to be more eco-friendly but admits it's not always as easy as it sounds.
Thanks to all the fabulous writers and readers for being a part of our simplicity parenting community! Stop by The Lone Home Ranger and S.A.H.M. i AM to see how to join us for a future carnival.
Editor's note: This post is part of Frugal Days, Sustainable Ways, The Homestead Barn Hop, DIY Link Party, Simple Lives Thursday, and Your Green Resource