Welcome to the May 2012 Simplicity Parenting Carnival: Organizing
This post was written as part of the monthly Simplicity Parenting Carnival hosted by The Lone Home Ranger and S.A.H.M. i AM. This month we are discussing how we organize our lives. Be sure to read to the end to see a list of the rest of the excellent carnival contributors.
***
Mountains of laundry. Check.

It seems like I read a lot of blog posts these days that are written by energetic moms who cheerfully write exact specifications for how you can be as organized as they are. Just follow these easy steps! Print these printables! Buy this e-book! This is not one of those posts.Instead, this is about how I aim to maintain a simple life, but I fail as often as I succeed. It's about how I am stumbling on happiness as I begin to find a rhythm to my days. And finally, this is about how learned recently that I am more like Martha Stewart than I once thought.Before I became one, I thought of a housewife as a slave to cleaning the house. I imagined mountains of laundry and never-ending to-do lists and shuddered at the thought of staying home full time. Where would my fulfillment come from? What would I DO all day besides scrub baseboards?At first, my stay-at-home lifestyle was heavy on the cleaning side. I didn't yet have hobbies or activities fully sorted out, so I spent many days following around the kids and wiping up behind their every mess.   As you can probably imagine, I didn't feel fulfilled by this routine, although I have enjoyed being with the kids full time from the very start.At the coaxing of a few wise women who have made a career out of the art of domestic engineering, I gradually developed my own outlets for energy and creativity, such as writing the blog and keeping a garden. As for the cleaning, I had a brief interaction one day that changed my entire outlook on household chores.I was standing in my daughter's classroom chatting with one of her teachers while the kids played in the playground outside. She was casually wiping up from the day's activities, and as I watched, I suddenly regarded her routine as much like my own. It was at that time that I realized I was thinking about stay-at-home motherhood in a skewed way. No one would consider a teacher's main role to be cleaning, and yet here she was, cleaning up after the kids, sometimes even changing their clothes after a potty accident or brushing their hair and helping them wash their hands.From that moment on, I have seen my role first as teacher. I don't clean up after every activity. I clean only a few times a day, and I don't follow a regimented schedule to do it. I allow the rhythm of the day to happen, and I relax and enjoy myself along the way. Somehow, everything still gets accomplished in a way that suits all of us.That's not to say that I don't fail; as I said when I started this post, I am not perfect. We still swear silently when we step on army guys and trip over elaborate forts of pillows and blocks. I let my mood or the kids' be my guide, and so we have days where we sit in bed and read twenty stories in a row rather than emptying the dishwasher in the evening. As a doula colleague recently said to me, "it all works out as it's supposed to." I am starting to agree with her.When I do clean, I keep it simple. I am not a stickler for the tiniest detail. This is, somewhat unexpectedly, where Martha Stewart comes in. I first fell in love with Martha in college. Insider trading scandal aside, she has always seemed to me to be supremely confident, capable, and almost laughably perfect (cue Ana Gasteyer's Topless Martha Christmas special on SNL).
Given all that, I was really surprised to read that she gives her kitchen floor a daily scrub the same way I do: with two rags placed under her shoes! It just goes to show that the best way is sometimes the most simple. Maybe I'm more like Martha than I thought. Here are some other great quick cleaning tips from Martha
Happy kids make it all worth it, don't they?
How do you organize your life? Do you stick to a schedule or a more laid-back rhythm? If you're looking to get more organized and feel like you could use some guidance, here are a few posts I've written that could help you get started:

***
Thanks for reading the Simplicity Parenting Blog Carnival! We hope you'll take time to read these other great contributors' posts: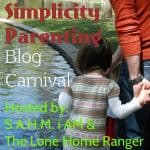 Finding Our Organization Groove – Becky from Crafty Garden Mama has been working on establishing organizational routines in her house. The Fly Lady program has helped, but she understands that flexibility and reflection are important parts of finding her groove.
Weekly Cleaning Schedule – Joy of Pardon My Poppet thinks the only way to stay sane while raising a family, and still maintain a clean home, is to follow a weekly cleaning schedule.
My Organized Kitchen – With 3 kids (ranging in age from 3 to 20), a landscape design business and a house to run, it is essential to be organized. Sheri at donuts, dresses and dirt shares her secrets for organizing recipes, meal-planning for her family and her growing piles of cookbooks and magazines!
Simplicity Parenting Blog Carnival: Organization – Anne at Raising Sweet Grace asks: Can you organize your whole life or does life just happen?
Martha and Me – Justine at The Lone Home Ranger figures out she might not have to be perfect to resemble Martha Stewart. It's a good thing.
Keeping It Clean – Jamie at I Love Junkmail…and Other Stuff, a second-time new mom, finds a way to organize care of her home and self.
Finding a New Rhythm (or, letting go of my lists) – Emily at S.A.H.M. i AM discusses how letting go of her long to-do lists and focusing on one day at a time leads to a simple daily rhythm and better organization in the long run.
Thanks to all the fabulous writers and readers for being a part of our simplicity parenting community! Stop by The Lone Home Ranger and S.A.H.M. i AM to see how to join us for a future carnival.
Editor's note: This post was shared with The Homestead Barn Hop Teach Me Tuesdays, Works for Me Wednesday, Frugal Days, Sustainable Ways, Simple Lives Thursday, and DIY Friday