This week marked our first month with the meat CSA. YAY! "CSA" stands for community supported agriculture, and it's a way you can support a local farm by pre-purchasing an annual or semi-annual share of what's produced. Even though we are living on a frugal food budget, we feel our food dollars are well spent supporting this local farm. Plus, we actually spend about the same to get our local meat, which has been lovingly cared for prior to its death, due to the money saved on travel and middlemen.
The occasion of picking up our share was met with tremendous anticipation, and we were elated upon opening the cooler. Early Christmas! [Vegetarians, avert your eyes!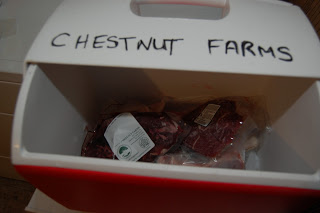 Check out the Chestnut Farms website for the most adorable pics of livestock you've ever laid eyes on. As if it could get any better, we absolutely adore the family who owns and operates the farm. Kim sends out a monthly email updating everyone on how stories on the farm are going. Perhaps in another life I would have made a good farmer because I love reading every last detail. The tale is much too long to include here, but here's one of my favorite snippets:
Farm life by its nature leaves little time for commercial immersion. Our son Sam, at 13, is still excited by an escalator. He has been inside a mall less than 8 times in his entire life, usually once a year at about this time as we do a one-afternoon-a-year, get all shopping done, trip to the Holyoke Mall. Our whole family loads into the car, drives to the mall and separates while we shop (with a budget and lists). We do allow Sam a trip up and down the escalator for fun, and then move on to the actual stores. Within three hours we are done. Friends find this funny, but as rural residents, not only are we an hour in ANY direction from a mall, but we simply don't have a need for most of the things that are sold there.
In an era rife with commercialization everywhere you turn, it is so refreshing to know there are still American families who are nearly untouched by modern life. I am inspired by them and hope one day my girls will know a life fulfilled by the things they create or produce, not what they consume.
By now you're wondering how I get from waxing philosophical about my kids' future to chicken boobs. Be patient! I'm getting to it. We don't eat a lot of chicken in our house. If we're not roasting a whole chicken, I usually buy boneless, skinless thighs and make "Mall Chicken," which is what we call Ina Garten's Indonesian ginger chicken recipe because it tastes exactly like the samples they entice you with in the mall food court. YUM.
But this week I was given skinless bone-in chicken breasts in our cooler, so I opted to make a "U" family favorite. Growing up, Nate and his fam called this dish "chicken boobs," and not one to mess with tradition, I am carrying the name forward. It reminds me of my favorite juvenile joke [What kind of bee makes milk? A boobie!]. Getting back to the recipe at hand, the chicken will become incredibly tender, and the creamy, chickeny sauce is perfect to top it and a bowl full of rice or egg noodles. It's a winter delight. Enjoy.

Pin It
chicken boobs
serves 2 adults and 2 munchkins
2 chicken breast halves, boneless and skinless
1 can cream of chicken soup, undiluted
parmesan cheese, to taste
garlic powder, to taste
water
Preheat the oven to 350 degF. Cut excess fat from chicken. Place chicken in an oven-proof casserole dish. Layer soup, cheese, and garlic powder over chicken. Add about 1/2 cup water (eyeball it) and mix slightly. It will still look thick but will thin out during cooking. Cover and cook for 1 1/2 hours. Stir once or twice as it cooks.
[Note: This can also be made in a crockpot on low for 8-10 hours or high for 5-6 hours.]