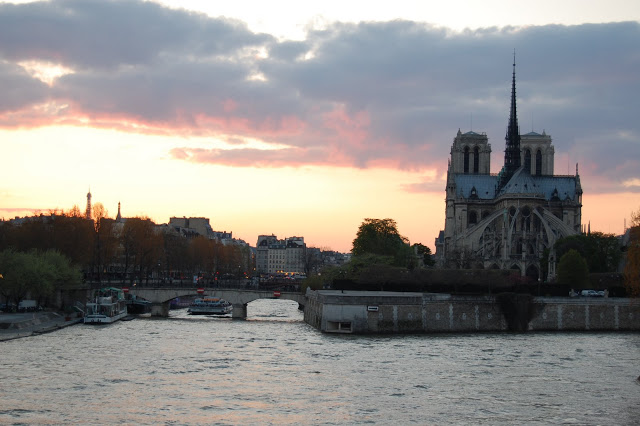 We returned from our travels on Tuesday evening feeling both exhausted and elated from the four-day adventure to Paris. Allow me to fill you in on our fantastic trip.
We traveled from London to Paris by Eurostar on Saturday morning, and after playing chicken with traffic to check in to our hotel, headed out to take on the city at about 2pm. Our first impression of Paris: delicious! We took a train (an excellent system here by the way, top notch) to Ile St-Louis, an island in the Seine with pre-revolution homes and lovely old buildings, and most importantly, ice cream! We had two scoops each at the famous Berthillon shop. Nate ordered vanilla with pieces of chocolate cake (what else), and I had hazelnut and caramel.
Next stop, Ile de la Cite and the Notre Dame. But wait, what's that? Crepes? Well, we must have one! Filled with nutella and bananas, it was beyond amazing and even left me uttering, with a full mouth, "This is the best thing I've ever eaten in my life." In fact, "the best in my life" became a common phrase on the trip.
We entered the courtyard of the Notre Dame from the back, and even in the rain and dark clouds, it was exquisite. After a short line we took refuge inside the cavernous, peaceful, lovely-smelling church and gaped in awe along with a billion other silent, jaw-open tourists. Nothing can quite describe the feeling of being in a place like this, but it gave me goosebumps the way I imagine a jump out of a plane might. We walked around the nearby St-Chapelle church, and as we made our way along the Seine, the clouds parted, and the view of the Notre Dame became better by the second.
We hesitated to leave it, but we were rewarded in pulling away by running into an antique map shop. My birthday present to Nate was a map of France (he collects a map of every place we travel), so he was thrilled to begin shopping right away. The store was brilliant (yes, I've picked up this word and "lovely" from the Brits, and I won't apologize. They're great words!), but we decided to wait until Tuesday to buy one in case we found a better store.
In the evening, we walked to the Latin Quarter for dinner. After an amusing and slightly confusing attempt at making reservations, we killed time by strolling to the nearby Place de Ste-Genevieve, where the Pantheon and Elgise St-Etienne are located. Sainte Genevieve is the patron saint of Paris, and this area is dedicated to her. The Etienne church houses her tomb, and the Pantheon, which was originally created in her honor, now is a library and is dedicated to famous French statesmen. Mass was taking place in St-Etienne, so I promised myself to return another day.
Dinner at Le Petit Pontoise was tres fabuleux. I had roasted farm chicken, mashed potatoes, and water "avec le gaz" (one of my favorite things about Europe). Nate ordered a starter of baked Camembert, which brought with it one of the foulest scents I've ever encountered. I couldn't believe any person would actually purposely consume this malodorous foot cheese, let alone at a cost of 12 euros. Being the brave foodie he is, Nate dove in, and the look on his face said it all: yep, awful. Luckily his main course of duck, foie gras, and potato pancake was delicious. He feels the same way I do about not wanting to eat foie gras because of its cruel method of creation, but when in Rome… The verdict: pretty good, but not worth it. We ended the day with a perfect sunset view of the Notre Dame from the Pont Marie.
Sunday started with tea, juice, and croissants in a cafe next to the Louvre. We happily discovered that as it was the first Sunday of the month, admissions to both the Louvre and Musee d'Orsay were free! After a chilly wait in line, we entered the Louvre with nervous anticipation. We had heard of the crowds of tourists, and that was no lie! Every room was overcrowded, and the locations of famous pieces were impossibly crowded. We were perplexed at the number of people who felt the need to photograph, not to mention film, famous art. What will these people do with 10 minutes of footage of the Venus de Milo statue? It was almost as if they were expecting her to come to life and flee the scene. As many of you probably already know, the Mona Lisa is behind bullet-proof glass, and there are approximately 40-50 people battling each other to the front to take pictures. Alas, a disappointment all around. My favorite was actually an enormous painting of the Last Supper (not the one by da Vinci) located opposite the Mona Lisa. It's a shame it has to share the spotlight with such a famous work, as it's nearly completely ignored.
We decided to brave another museum and marched on to the Musee d'Orsay, a former train station repurposed as a museum which houses many Impressionist paintings. We stopped along the way for more street food: this time, French-bread pizzas and hot dogs. French hot dogs are quite tasty, as they are all pork, nestled in a baguette and covered with yummy melted cheese. The Orsay was well worth the lengthy line, and we saw works by Renoir, Cezanne, Van Gogh, Monet, Manet, Pissarro, and Degas, among many others.
Upon exhausting Nate's patience for museums (in his words, he's "not a museumy guy"), we braved some iffy weather to take a one-hour cruise on the Seine with Bateaux Parisiens from the Eiffel Tower to the Notre Dame and back. While waiting for a boat to come, I was invited by the cruise staff to sit on a bench. Who says French people are rude?
Our last visit of the day was to the Eiffel Tower. We stood in a deceptively short line to buy tickets and rode an elevator up to the first platform, at which point the REAL line began. We spent what felt like an eternity in the incredibly cold and windy weather, and if that wasn't bad enough, it started snowing! By the time we got to the 2nd platform, you couldn't see the view. I would have skipped this if I had it to do over again, but as low points go, it wasn't too bad.
Monday morning started with (how else?) more pastries! We trained to the Arc de Triomphe and were nearly the first people to arrive in line. The line filled in quickly behind us, and as we were lead inside, a French couple jumped in ahead of us. We'd heard about this happening and chuckled quietly at their nerve. I had a strangely funny encounter with the police officer at the security checkpoint. After checking my camera bag, he wanted to see what was in my jacket, so I showed him my front pocket. He shook his head and motioned for me to pull up the jacket (no front zipper makes this jacket more of a challenge, but it sure is warm and still fits my preggo belly), so I said "I'm pregnant." Nope, no English. You should have seen the look of shock and embarrassment on his face when I pulled up my shirt and showed him my giant tummy. But, like mom said, I guess he was just doing his job, albeit in a Barney Fife sort of way. It was at that point I decided to memorize the phrase "Je suis enceinte." The weather was sunny, so we had a great view from the top of the Arc.
Next we window-shoppped down the Champs-Elysees and enjoyed a lunch of more street food at the Jardin de Tuileries, where we soaked up some sun. After touring the Marais neighborhood and the Place des Vosges, which we decided would be a great place to live, we hopped on another train to Montmartre to see Sacre-Coeur. The view and basilica are both very impressive. A stroll around the famous Painters' Square was followed by a snack at Cafe Flores…not a moment too soon, as it started sleeting just after we sat down. What strange weather! We ended our last evening with dinner at a prix fixe restaurant, where brave Nate sampled escargo, which he loved! Then we spent some time viewing the spectacular sight of the Eiffel Tower lit up at night. I don't know how anyone could hate such a marvelous creation.
On Tuesday we went to back to the left bank to shop at an open-air market. We got chocolates, strawberries, pastries (of course!), olive oil, and champagne to celebrate the upcoming birth. After stopping at a few churches in search of cards bearing Ste-Genevieve's name (third try was a charm at a religious bookstore), we went to Jardin du Luxembourg, where we stumbled upon a statue of Ste-Genevieve. We ended our trip with sandwiches on the Seine and map-shopping. He's quite pleased with his purchase of a beautiful map of France from the 17th century.
Now we're, le sigh, back home. With less than 3 weeks until the due date, we're anxiously awaiting the baby's arrival. I'm channeling my former 2k erg test willpower for the pain to come, but I'm less nervous than I am READY. Bring it on, I say!