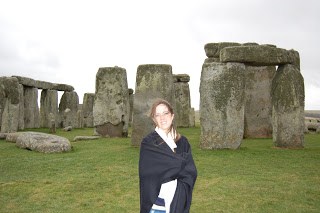 Can you tell how freezing I am? The wind was insane!

Our first stop this weekend was to see Stonehenge. We were prepared for the oddity to come as we drove up to it and could see it very plainly from the highway. $25 later, we were able to walk under the highway to the inside of the fence and stand with a million other tourists, enduring the incredible wind as we tried to figure out how long was an appropriate time to get our money's worth. Apparently there are steps being taken to make this World Heritage site more peaceful and less touristy, such as moving the highway underground. How they came to the decision to put it there in the first place is beyond me. One of the many decisions made here that I don't understand–which is not to say there aren't an equal number of these in the states!
Look how the wind has molded this tree. I loved this spot.After Stonehenge we drove on to Salisbury, stopping along the way at Old Sarum, a hilly area where Salisbury used to be located nearly a millennium ago before they moved it to the valley below. Similar to other areas in England, we were surprised at how modern and hip Salisbury was. Next we checked in to our bed & breakfast in Avebury. I arranged the room over the phone with the owner of the house, an older woman with a thick rural accent. It was a slightly awkward but amusing conversation in which I said "Pardon?" several times, and she called me "Luv" at least twice. It was just as quaint and fun as we had hoped. They gave us our own key and said we could return whenever we liked. So we went to town and settled in by the fireplace at a local pub for a few hours, Nate watching the football game and me reading snippets aloud from the London Daily Mail (juicy tabloid akin to the New York Post).
See my belly?
Sunday morning we awoke to a full English breakfast, which included bacon, sausage, fried eggs, baked beans, tomatoes, mushrooms, and toast with jam, as well as coffee, tea, and juice. We enjoyed our stay so much that I would highly recommend anyone traveling to the UK take part in the B&B experience at least once. We took in the sights in Avebury, which included several relics from thousands of years ago. The first, the stone circle, is 16 times the size of the circle in Stonehenge, yet almost unheard of by the average person. We think this has something to do with the stones being spread out over the town, as well as the fact that it lacks the stones stacked on top of each other, which admittedly is quite impressive and mysterious. But we still enjoyed Avebury's henge very much and think it's very underrated. The second stop was to the West Kennet Long Barrow, an ancient burial mound. Once again, we felt like the only people around for miles, so it was a very different experience than Stonehenge.

We continued on toward Oxford, stopping along the way at Blenheim Palace, an incredibly huge home owned by the Duke of Marlborough. The gardens were our favorite by far.

We traveled on to Oxford, taking in Christ Church college as well as Broad Street and Blackwell's, one of the world's largest bookstores. Nate liked Oxford better than Cambridge because he enjoyed the urban feel. I prefer the rural aspect of Cambridge because I love the abundance of grassy knolls. We feel so lucky to have traveled around so much while here, and I don't think we'll have any regrets when we move back home. We're still hoping to see Ireland and Paris/Barcelona, so I'm spending some time researching the various ways we can travel and whether it can be done with a huge belly or tiny infant. Fingers crossed!