Showing posts with label Frugal Living Challenge. Show all postsShowing posts with label Frugal Living Challenge. Show all posts
Tuesday, February 26, 2013
Welcome to the February 2013 Simplicity Parenting Carnival: Finances
This post was written as part of the monthly Simplicity Parenting Carnival hosted by The Lone Home Ranger and S.A.H.M. i AM. This month we are discussing how we balance finances, family, and simplicity. Be sure to read to the end to see a list of the rest of the excellent carnival contributors.
***
When we bought our first Mac laptop seven years ago, it helped us in many areas of our lives. Perhaps the biggest way was that we started using Quicken. I smile when I ponder the pre-Quicken days of writing down every expense on a paper tablet, but that is one instance when I can say for sure I don't long for the Good Ol' Days.
Although Quicken did help us establish our first budget, it wasn't until we took on a frugal living challenge last year that we really began to analyze closely our needs versus our wants and attempt to make cuts to family spending. The frugal living challenge was a 23-day experiment in which we redefined "enough" and discussed the merit of each individual purchase we make on a regular basis.
We altered our lifestyles greatly after the challenge to be more frugal. For instance, we got rid of cable (for a year; we're back on cable now in our new house). One area that took lots of time and soul-searching to change was grocery-shopping. I realized in doing the challenge that so much of my coupon-clipping was to purchase items we didn't really need (e.g. toilet bowl cleaner can be made at home for pennies on the dollar!). Upon that realization, I decided once and for all to cut out coupons from our lives; I shared the results and my tips for shopping frugally without coupons on the blog.
I have written several posts about living frugally, so if you're pondering how you can live more simply and within your means, come pull up a chair and learn from my foibles and follies on our path to frugal living:
How do you live frugally? What does frugal living mean to you?
***
Thanks for reading the Simplicity Parenting Blog Carnival! We hope you'll take time to read these other great contributors' posts (Note: Links will all be live by 3pm ET on February 26th):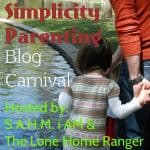 Thanks to all the fabulous writers and readers for being a part of our simplicity parenting community! Stop by The Lone Home Ranger and S.A.H.M. i AM to see how to join us for a future carnival.
Editor's note: This post was shared with The Homestead Barn Hopat8:40 AM4 comments:
Email ThisBlogThis!Share to TwitterShare to FacebookShare to PinterestLabels:Frugal Living Challenge,Frugality,SimParCar,Simplicity
Monday, January 30, 2012
Today I'm beginning with an aside. Have you joined Bloglovin' yet? I held off joining because it was just one more social media gadget, I couldn't imagine getting yet another username and password, and I already organize the blogs I follow in Google Reader. I changed my mind yesterday because it occurred to me Bloglovin' might be a good way to find new blogs. And it is! If you're thinking of trying it out, you can follow my blog with Bloglovin. Now, onto the topic at hand…
If I've learned anything about myself during this frugal challenge, it's that I enjoy simplifying my life. Rather than feeling burdened by buying less, I feel more free than ever. Nate is feeling it too. In fact, we are so enjoying our new-found freedom that we're willingly cutting out any expense possible. I'm following up on the frugal challenge goals I started out with 23 days ago so you can see how far I've come.
Read more »at9:58 AM13 comments:
Email ThisBlogThis!Share to TwitterShare to FacebookShare to PinterestLabels:Frugal Living Challenge,Frugality,Home ranging
Thursday, January 12, 2012
As part of the frugal living challenge, I decided to bake my own bread. My mom has been baking bread since before I was born; to this day, I am consumed with gushy childhood memories at the smell of bread baking. I can't say why I have never attempted my own bread, or even helped her out enough to know the recipe by now, especially considering how much I love to cook. I suppose it has to do with my general disdain for the fussiness and measuring of baking. I love to smell and taste as I'm cooking–a pinch of this and a smattering of that–so baking has never appealed to me beyond easily-mixed, fool-proof recipes like breakfast cookies
In the beginning, even buying flour and getting out the proper bowl were tough for me, having never done it before. Luckily, I stumbled upon this quick Bread 911 page from the Washington Post, which I discovered when googling whether I could use my biggest metal bowl (answer: no metal bowls! Glass, ceramic, and plastic are all okay).
Read more »at9:10 PM16 comments:
Email ThisBlogThis!Share to TwitterShare to FacebookShare to PinterestLabels:Food,Frugal Living Challenge,Heirloom,Recipe
Tuesday, January 10, 2012
We freeze food, water bottles, and ice.
Day five of the frugal challenge is about saving on groceries. Although I already posted about how to shop frugally without coupons last week, I did not mention a key player in our grocery savings: the chest freezer. While I lived without one for 14 years, I don't know what I would do without it now.
Why buy a chest freezer? For us, the answer is simple; we wouldn't be able to participate in a meat CSA as we are now. We are also considering purchasing a quarter of a cow to get more bones for stock and grass-fed ground beef, our tots' favorite. While your meat situation may be different, if you are frugal like me, the freezer will provide you many other rewards.
I admit that freezing is not the most environmentally friendly way to store food, but when you consider that we make food from scratch (thereby reducing our package waste and cost of travel) and support a local farm to raise sustainable, humane livestock, I hope it more than evens out our carbon footprint.
Read more »at10:51 AM6 comments:
Email ThisBlogThis!Share to TwitterShare to FacebookShare to PinterestLabels:Food,Frugal Living Challenge,The Three Rs
Monday, January 09, 2012
Have I told you about my hair? Probably not; I try not to talk much about it. However, I am buoyed by other ladies with more eloquent, confident writing than my own (read: Suburban Matron's discussions of her own post-chemotherapy hair loss), and so I've decided to let you in. I have rarely found anyone discussing the topic of female hair loss on the web, so perhaps I can be helpful.
My hair is falling out, like, a LOT. I don't have cancer or anything, so not to worry. It's happened before, although both of the previous times took place from exactly three to six months after giving birth, when there are several potential reasons for the loss of hair. In fact, even excessive postpartum hair loss is a normal condition, for 40-50% of women, called Telogen effluvium. The great news is that the hair grows back.
Read more »at8:00 AM16 comments:
Email ThisBlogThis!Share to TwitterShare to FacebookShare to PinterestLabels:Babies,Frugal Living Challenge,Health,Pregnancy,TMI
Sunday, January 08, 2012
Image Credit: allconnect.com
[N.B.: In the process of cutting cable, I had to learn about digital antennas and a bunch of stuff I would have liked to have been told in one place but wasn't, so if you're going to cut your cable too, I'm here to help you out! See update at the bottom]
Pin It
We're pulling the plug tomorrow. On cable, that is. We actually don't even have Comcast right now, we have Verizon FIOS, but I've always really wanted to stick it to Comcast, so I'm just going to pretend they're our provider.
You may be wondering why we are getting rid of cable. Amazingly, I don't have to write the reasons, as I was handed the perfect online article in my lap yesterday evening by my aunt. Timing is everything, and apparently I have my finger on the pulse of the winds of change, since just yesterday the Wall Street Journal posted an article titled Cutting the Cord on Cable. It's cleverly written, short, and even includes some ideas for going cable-free at the end.
Read more »at8:00 AM10 comments:
Email ThisBlogThis!Share to TwitterShare to FacebookShare to PinterestLabels:Frugal Living Challenge
Saturday, January 07, 2012
Having a good weekend? Ours is once again blissfully unfilled, except for church, the gym, and a few odds and ends. Today we spent many hours outdoors at our local park enjoying the unseasonal warmth. Vivi met and became fast friends with a little boy while we happily chatted with some neighbors we've never met and one who I haven't seen in a while due to her giving birth very recently. Oh boy do I love new babies! They make everything okay, you know? That is, when you only have to spend an hour with them.
Read more »at8:27 PM9 comments:
Email ThisBlogThis!Share to TwitterShare to FacebookShare to PinterestLabels:Frugal Living Challenge,Weather
Friday, January 06, 2012

Pin It
Over the past year, I tried couponing. I occasionally watched that TLC show "Extreme Couponing," and I followed the coupon gurus Coupon Mom and Krazy Coupon Lady (even though I make it a point to keep my distance from people who spell crazy with a capital "K"). I dutifully kept my coupons organized in an accordion binder and bought a Sunday newspaper every week, telling myself I must be saving more than the $14 cost of the monthly subscription. Today, rather than sharing a step-by-step guide for how you too can become a couponer, I'm here to tell you why I stopped.
Read more »at8:46 AM14 comments:
Email ThisBlogThis!Share to TwitterShare to FacebookShare to PinterestLabels:Frugal Living Challenge,Frugality Older PostsHomeSubscribe to:Posts (Atom)
Share
"; n.innerHTML = at; container.insertBefore(n , footer); } } return true;};document.doAT('hentry');
<#comment></#comment><#comment></#comment>
<#comment></#comment>