Welcome to the September 2013 Carnival of Natural Parenting: Staying Safe
This post was written for inclusion in the monthly Carnival of Natural Parenting hosted by Hobo Mama and Code Name: Mama. This month our participants have shared stories and tips about protecting our families. Please read to the end to find a list of links to the other carnival participants.
***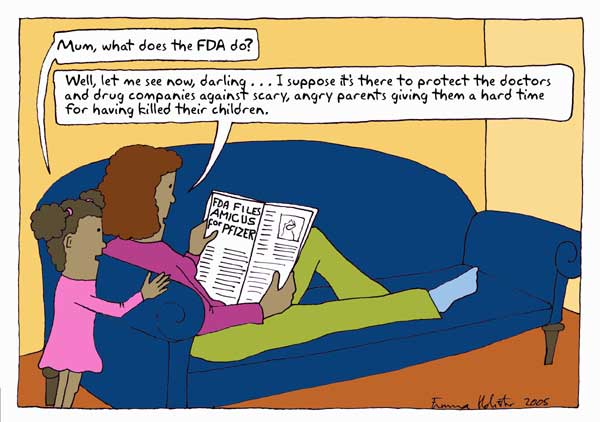 I steer clear of giving too much advice to new parents; what I know, they either won't understand or aren't ready to hear yet. Besides, being a mom for five years doesn't make me a parenting expert, and I am far too aware of the foibles I've made along the way to feel I would be any good at telling others what to do. There is an exception to this no-advice rule, and it's concerning the food and drug choices we make as parents. Here is the sum total of that advice:
as a parent, you are the funnel by which all materials will reach your children. You are the screen, the poison detector, the regulation. In essence, YOU are the FDA
.
One difficult truth I learned in public health graduate school is that the FDA is an agency under extreme political pressure to make profit-based rather than evidence-based decisions. The integrity of their decision-making process has come under scrutiny in recent years for good reasons. The FDA has repeatedly been
accused
of or
directly confessed
to succumbing to pressure by Congress, whose members are funded by big companies peddling myriad faulty products.
Note that this pressure isn't exerted by one political party or another; it is a problem that crosses the aisle. Even easier to demonstrate than the political pressure is the whacky organizational make-up of the agency where food is concerned. Let's take
frozen pizza
as an example; if you want inspection information about a frozen pepperoni pizza, you should seek out the USDA, but if you want the same information about a cheese pizza, go to the FDA. The same could be said about egg regulation, which
this article
cutely and aptly calls "scrambled."
The problems in FDA regulation aren't limited to processed food but rather extend to
sunscreen
(see EWG's July 2013 letter to the FDA
here
),
cleaning products, produce, seafood,
vitamins*--which the FDA doesn't currently regulate at all (see footnote about vitamins below)--
etc
. Problems aren't limited to the FDA either. There's bad news for other regulatory agencies as well. Take the FTC (please!), which regulates all advertising, including for children's and infant products, but chooses to provide less regulation and more frustrating
"guidance."
A particularly frustrating example of this lack of adequate FTC regulation concerns infant formula. Back in the late 1980's,
pediatricians were outraged
at a change in formula advertising to direct-to consumer-as opposed to doctors; some pediatricians even went so far as to
boycott formula companies
. The AAP then and now recommends against direct-to-consumer advertising, but they wield no regulatory power, and even though other countries have banned the practice, the
US (via the FTC) continues to allow it
.
Why were pediatricians so up in arms? They knew what could (and did) happen; formula companies now
manage the information
you receive and lead women to believe failure to succeed at breastfeeding is
normal and expected
. The hazard boils down to this likelihood: if you don't do your own research to become educated, you know only what they want you to know. Perhaps more importantly, you don't know what they don't want you to know.
What all this evidence means, unfortunately, is that parents can't rely on the federal agencies** to protect us; we need to do our own research when making decisions about purchases, particularly when they are for our children. If you're looking for a place to do such parenting research,
Environmental Working Group
is a good place to start.
*Should you take a multivitamin? This
Harvard School of Public Health website
discusses the evidence both for and against synthetic supplemental vitamins.
**It's not all bad news at the federal agencies of health protection. The CDC does a fantastic job of relaying transparent and evidenced-based data to the public. I highly recommend checking out their website for
child-related health and safety information
.
Author's Note: This post was shared with Works for Me Wednesday.
***

Visit
Hobo Mama
and
Code Name: Mama
to find out how you can participate in the next Carnival of Natural Parenting!
Please take time to read the submissions by the other carnival participants:
(This list will be updated by afternoon September 10 with all the carnival links.)