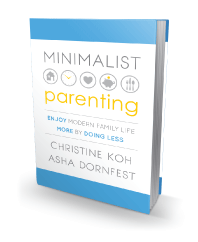 Back in March, I participated in
MinCamp
, a free two-week lifestyle program run by
Christine Koh
and
Asha Dornfest
, authors of
Minimalist Parenting
and their great blogs to which I linked. Inspired by
Red Shutters
, I briefly considered writing my thoughts on the book and camp. Then life happened, and now it's seven months later. But, daily blogging is on, so let's do this.
Last week I mentioned
one of the ideas I liked best in the book, that
moms are curators of the stuff and activities of family life.
I appreciated their real-life anecdotes sprinkled throughout the book. For example, some prudent wisdom I have taken to heart is that giving up your baby stuff doesn't necessarily mean you're taking a stand on future reproduction. Christine's idea to ask for used items at a baby shower is right up my alley, so I happily gave my cousin the bulk of our baby stuff cluttering up the basement.
Honestly, I didn't read
Minimalist Parenting
cover to cover, but that could be because I've been a student of minimalism for a while now and have read copious resources on this topic already. I borrowed it from the library, brought it to the gym with me for a few days and flipped through while on the bike. Much of what it says validates what I am already doing of what I've learned by chatting with girlfriends. Having said that, I do think it's a good and quick read, and it would make a great baby shower gift for a new parent.
While I might not have thought the book itself essential, the authors have made some valuable contributions to the field that I want to point out. First, they maintain
a fabulous Facebook page
that is continually updated with great articles on topics related to minimalist parenting.
Author's note: They are devoting a section of their Minimalist Parenting website to the holidays! They have some great ideas for rebooting the holidays to enjoy them more by doing less. In the next post, I shared my version of their camp, which is tailored toward the holidays.