Welcome to the November 2012 Simplicity Parenting Carnival: Food
This post was written as part of the monthly Simplicity Parenting Carnival hosted by The Lone Home Ranger and S.A.H.M. i AM. This month we are discussing how we balance food, family, and simplicity. Be sure to read to the end to see a list of the rest of the excellent carnival contributors.
***
It makes some sort of sense that after disappearing for a week I would come back to the blog talking about food. Practically nothing else (save decorating) has occupied my thoughts for the past fortnight. Just about my favorite part of this Thanksgiving--after my mom visiting, of course--is that the whole event somehow came together easily.
My after-action analysis of the gorging bonanza is that we owe its success to simplifying the dishes. We canned and froze much of the accoutrement so that all we had to do was pop open jars and leave casseroles in the counter to defrost. Another way we simplified was to use meat we already had from the CSA instead of worrying about finding and cooking a big (sustainably, humanely raised) turkey. Nate made a fabulous leg of lamb, and I warmed up a large ham steak. We didn't even miss the turkey!
Making simple dishes is not rocket science, folks, so I won't belabor the point. Instead, I'll share links to the recipes. I loved them so much that I think we'll have a repeat of the meal at Christmas. How's that for simplifying? (
Note: The ones I froze or canned ahead are italicized
.) I'll also share our local farmer's recipe for mashed squash, which when topped with spiced nuts was just about my favorite dish on the table.
Recipes:
*Made ahead and warmed up.
Much prettier to eat than look at!
mashed hubbard squash
serves 4
5 lb. sqaush (I used a big half, and weight included peel)
4 Tbs. butter
1/4 tsp. cinnamon
1/2 c. brown sugar
salt & white pepper to taste
Cut the squash into chunks and steam until tender.
Allow to cool slightly until you can handle it, then scoop out the flesh with a spoon into a large bowl. Add remaining ingredients and mash until combined. I pureed mine with an immersion blender, but that step is optional depending on how smooth you want it. Season to taste. Top with your favorite
spiced nuts
(we used a combo of pistachios, cashews, almonds, and pepitas).
***
Thanks for reading the Simplicity Parenting Blog Carnival! We hope you'll take time to read these other great contributors' posts (Note: Links will all be live by 3pm ET on November 27th):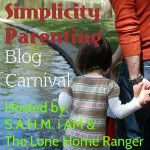 Thanks to all the fabulous writers and readers for being a part of our simplicity parenting community! Stop by
The Lone Home Ranger
and
S.A.H.M. i AM
to see how to join us for a future carnival.
Editor's Note: This post is part of The Homestead Barn Hop.